Kate McPherson

Status:
Deceased
Role:
Main antagonist
Age:
38
Date of birth:
1976
Date of death:
2014
Cause of death:
Shot in the chest by Avi on Ezra's orders
Nationality:
American
Residence(s):
Los Angeles
Affiliation:
Mickey Donovan - Ray Donovan
Profession:
Investigative Journalist
Marital status:
Single
Played by:
Vinessa Shaw
Seasons:
2
Kate McPherson was a Pulitzer award-nominated Boston Globe journalist, who, following Patrick Sullivan's death, attempted to investigate and expose the criminal activities of Ray Donovan and his associates. She served as one of the three main antagonists of Season 2 (the other two being Cookie Brown and Ed Cochran).
Biography
Edit
Early life
Edit
Little is known about her early life, except that at some point she became a journalist for Boston Globe and prior to the events of Ray Donovan wrote a book about pedophile priests, which earned her a nomination for a Pulitzer award and optimism for a promising career. She did hint that her father was racist, as when she told Terry that her father only followed and noticed white boxers who can go past the fifth round.
Events of Ray DonovanEdit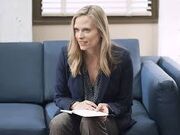 TBD
After returning home from telling Catherine's mom the truth about Catherine's disappearance, Kate walks through the door and gets shot in the chest by Avi before she sees him. He then shoots her once in the head to make sure that she is completely dead.
Aftermath
Edit
TBD
Personality
Edit
Kate is an ambitious and cunning journalist who will not stop until she gets the real story. She has a tendency to act on hunches rather than evidence and logic. Her persistent nature in investigating made her a lot of enemies along the way, but her passion for revealing the truth made Ray Donovan develop feelings for her. Despite telling him that she is going to write a story that will possibly end with a long prison sentence for Ray, he goes out of his way to protect her from Cochrane and Ezra.
She is Avi's first killed victim in the series.